A Coupon Code or "Promo Code" is a word consisting of letters and/or numbers that can be applied at checkout to receive a discount. You can use Coupon Codes to run promotions and offer businesses a discount on your available advertising Plans. If an advertiser enters the Coupon Code during checkout, the discount will be applied to their listing.
Please Note: The Coupon Codes section seen below will not appear until after you've connected your site with Stripe.
STEP 1 - Go to "Manage Plans"
From your Dashboard, click on Manage Plans.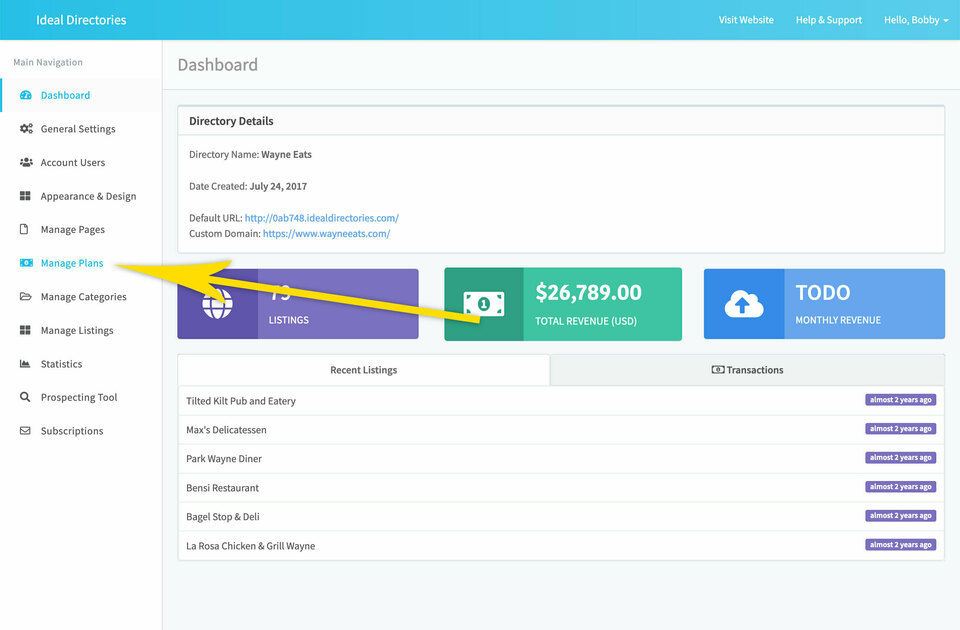 STEP 2 - Click on "+ Add New Coupon Code"
Scroll down to the bottom of the Manage Plans screen to the Coupon Codes section. Click on "+ Add New Coupon Code."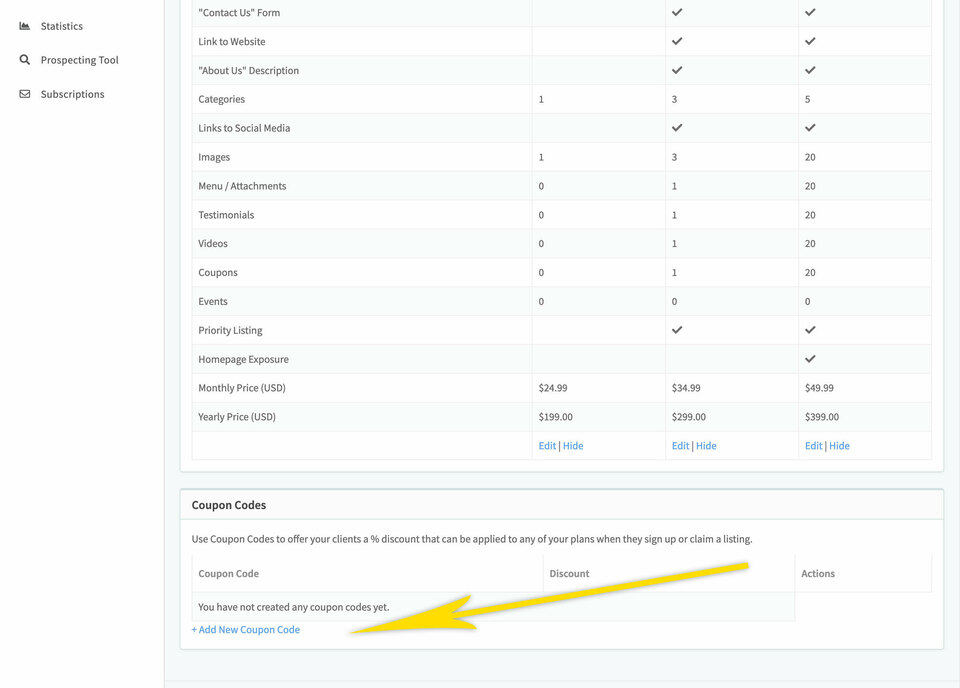 STEP 3 - Create Coupon Code
Add a new Coupon Code by creating a Code Name and Discount Percentage. Only percentage discounts can be applied.
*Create a code that is short and reflects the discount being offered (ex: SAVE20 for 20% off).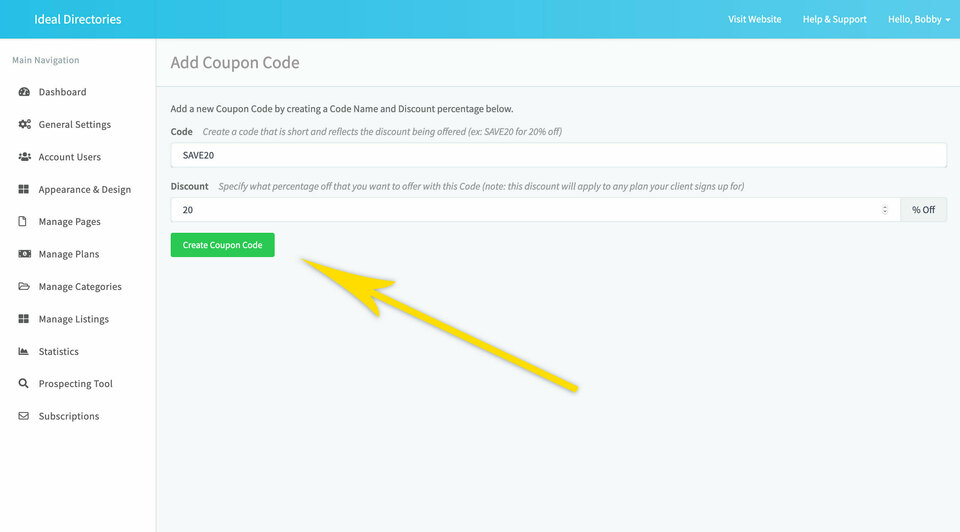 Once a Coupon Code is created, it can be activated / deactivated at any time from the dashboard. Deactivating a Coupon Code simply prevents any new businesses from being able to apply the discount at checkout, it does not effect listings who already signed up with the coupon code. If you want to reuse a Coupon Code that has been deactivated, simply click the option to activate it from the bottom of the Manage Plans page of your dashboard.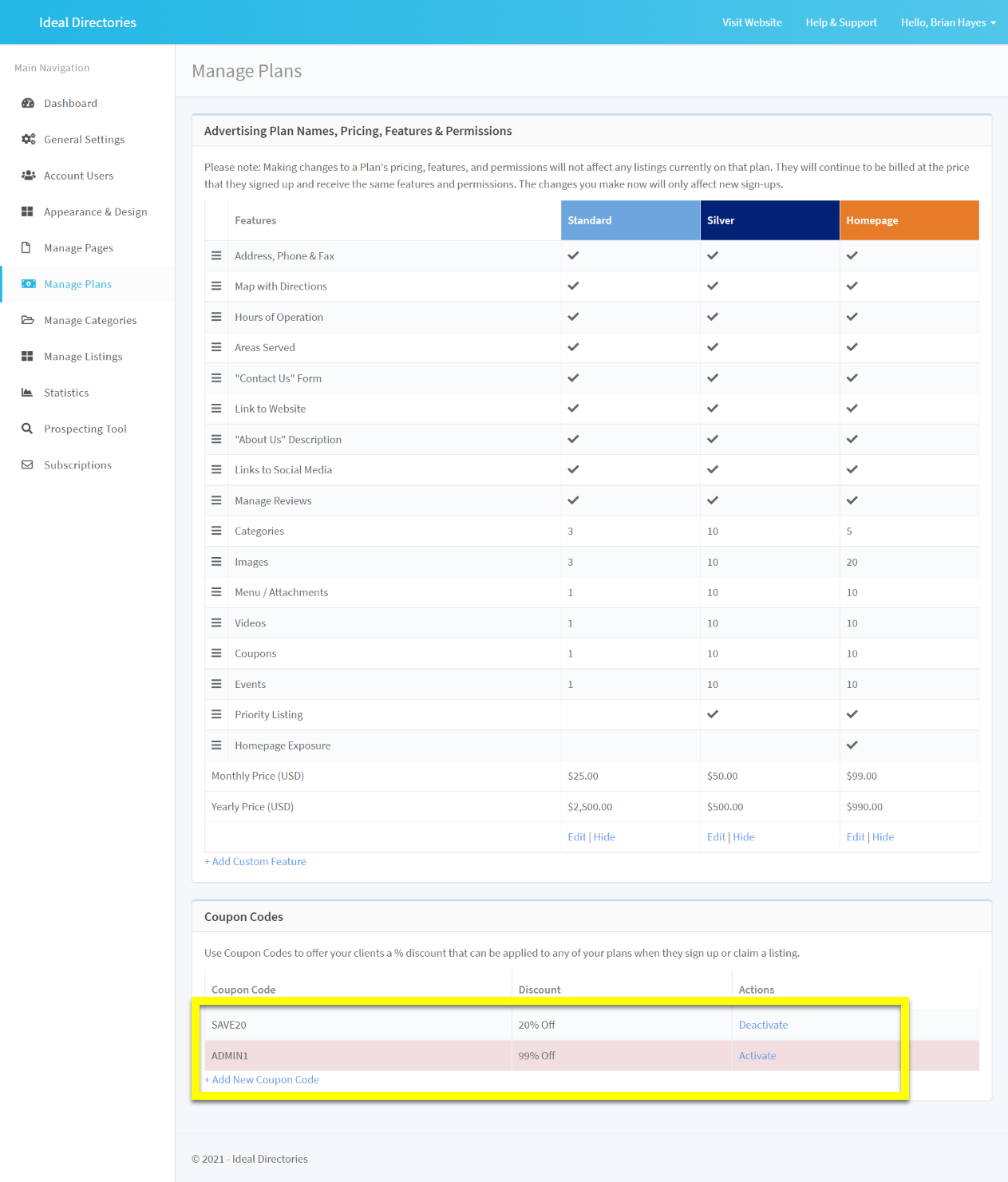 Please Note: When a Coupon Code is used by a business owner to sign up on your site, the discount they get is for the duration of their subscription. It is not limited to a specific number of transactions in their subscription. Specifically, this is not designed to give someone a discount for only their first month, for example. Best practice with selling listings on a directory site is to make your discounts permanent to boost long-term commitment from your clients.